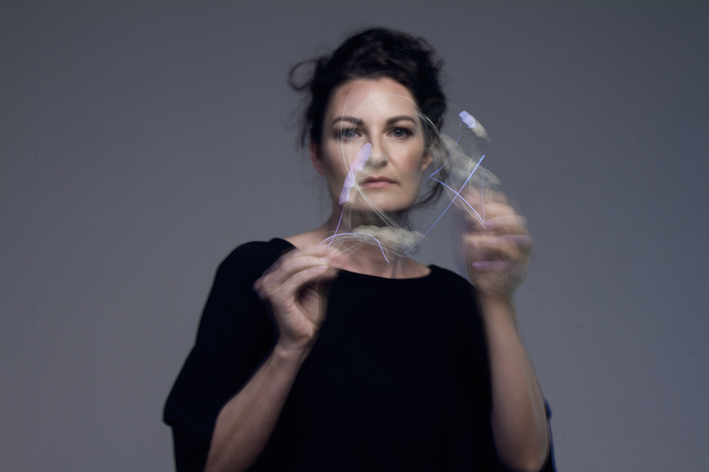 Kate McMillan
b.1974, Hampshire, United Kingdom
1982-2012, Perth, Australia
Based in London at Tannery Studios in Bermondsey.
Kate McMillan's work incorporates a range of media including sculpture, film, sound, installation and photography. McMillan is interested in the linking narratives of forgetting and place, often focusing on the residue of the past. Her artworks thus act as haunting memory-triggers for histories and ideas that are over-looked. Her most recent solo exhibition at Castor Projects in London in 2016 was titled 'Songs for Dancing, Songs for Dying' and mapped the relationship between inherited body memory and landscape, incorporating film, sculpture and photographs.
She is currently working towards a major project for Kunstquartier Bethanian in Berlin for December 2017. The work entitled 'The Past is Singing in Our Teeth' extends the notion that artworks, objects and even smells can serve as an umbilical cord back in time, thus functioning as an intermediary into the past. In this case, a fictional past reinvented in the absence of women's histories. The final work will manifest as a film based installation, incorporating projected films, photography, sound, performance and sculpture. She has recently completed the second film shoot for this project on her residency at the Sidney Nolan Trust in Herefordshire located on the Welsh Borders.
In October 2017 her work will be on exhibition during Frieze Week in London as a finalist in the Celeste Prize curated by Fatos Üstek.
In July 2016 she was invited to undertake a residency in St Petersburg as part of the National Centre for Contemporary Art (NCCA) where she developed new film works which were shown at the State Museum of Peter & Paul Fortress in Russia in July 2017. In early 2017 she was selected to be in the permananent collection at The Ned, for Vault 100, a new Soho House project which reversed the gender ratio of the FTSE 100 by showing the work of 93 women and 7 men, curated by Kate Bryan, British art historian and global head of collections at Soho House.
In April 2016 McMillan took part in 'Acentered: Reterritorised Network of European and Chinese Moving Image' during Art Basel Hong Kong, presented by the Art Basel Crowdfunding Initiative, Acentered was part of the Crowdfunding Lab and curated by Videotage. In June 2015 McMillan was included in 'StructuralObject HouseProject27' curated by Linda Persson at a site in Greenwich, London, alongside other artists such as Bridget Currie and Laure Provoust. In April 2015 McMillan presented an exhibition of small sculptures and experimental films at Moana Project Space in Perth, Australia entitled 'Anxious Objects'. In November 2014 Kate staged a project three years in development with Performance Space in Sydney that was presented at Carriageworks, entitled 'The Moment of Disappearance', curated by Bec Dean. The five channel film and installation included a new sound work composed by Cat Hope and recorded with the London Improvisers Orchestra.
Previous solo exhibitions include 'The Potter's Field', 2014, ACME Project Space, London; 'In the shadow of the past, this world knots tight', 2013 Venn Gallery; 'Paradise Falls', 2012, Venn Gallery; 'Lost' at the John Curtin Gallery in 2008, 'Broken Ground' in 2006 at Margaret Moore Contemporary Art and 'Disaster Narratives' at the Perth Institute of Contemporary Arts for the 2004 Perth International Arts Festival. Her work has been featured in various museums and biennales, including the 17th Biennale of Sydney; the Trafco Centre for Contemporary Art, Poland; Minsheng Art Museum, Shanghai; Art Gallery of Western Australia; Gertrude Contemporary, Melbourne; Perth Institute for Contemporary Art; John Curtin Gallery, Perth; Govett Brewster Art Gallery, New Plymouth and the Australian Centre for Photography, Sydney.
Since 2002 she has undertaken residencies in Russia, London, Tokyo, Switzerland, Berlin, Sydney, China and Hong Kong. McMillan has been the recipient of numerous grants including more recently an International Development Grant from the British Council and Arts Council England; and in 2015 a New Work Grant from the Australia Council, which she also received in 2011 and 2009. In 2013 McMillan was awarded a Fellowship from the Department of Culture and the Arts (Western Australia) and a Mid-Career Fellowship in 2008.
She has resided on the Board of the Perth Institute of Contemporary Arts (PICA), National Association for the Visual Arts (NAVA) based in Sydney and has worked as a Peer and an Advisor for the Australia Council for the Arts. Her PhD (2014) explored the capacity for Contemporary Art to unforget colonial histories. McMillan is a part-time Teaching Fellow at King's College, London where she lectures on the Masters Program in the Department for Culture, Media and Creative Industries. She is also an External Examiner for Brighton University, UK and has guest lectured at The Ruskin, Oxford University. McMillan has taught at Open University via Curtin University, Australia; Coventry University and the University of Creative Arts, Farnham. Her PhD is currently being developed into a book called 'Contemporary Art & Unforgetting: Methodologies of Making in Post-settler Landscapes', published by Palgrave Macmillan in 2018. She is also undertaking research into gender equality in the contemporary art world, which will also be published in 2018.
Her work is held in private collections around the world, as well as in the Christoph Merian Collection, Basel; Soho House Collection, London; Art Gallery of Western Australia; Wesfarmers Arts Collection; KPMG; Murdoch University, Australia; University of Western Australia and Curtin University, Australia.