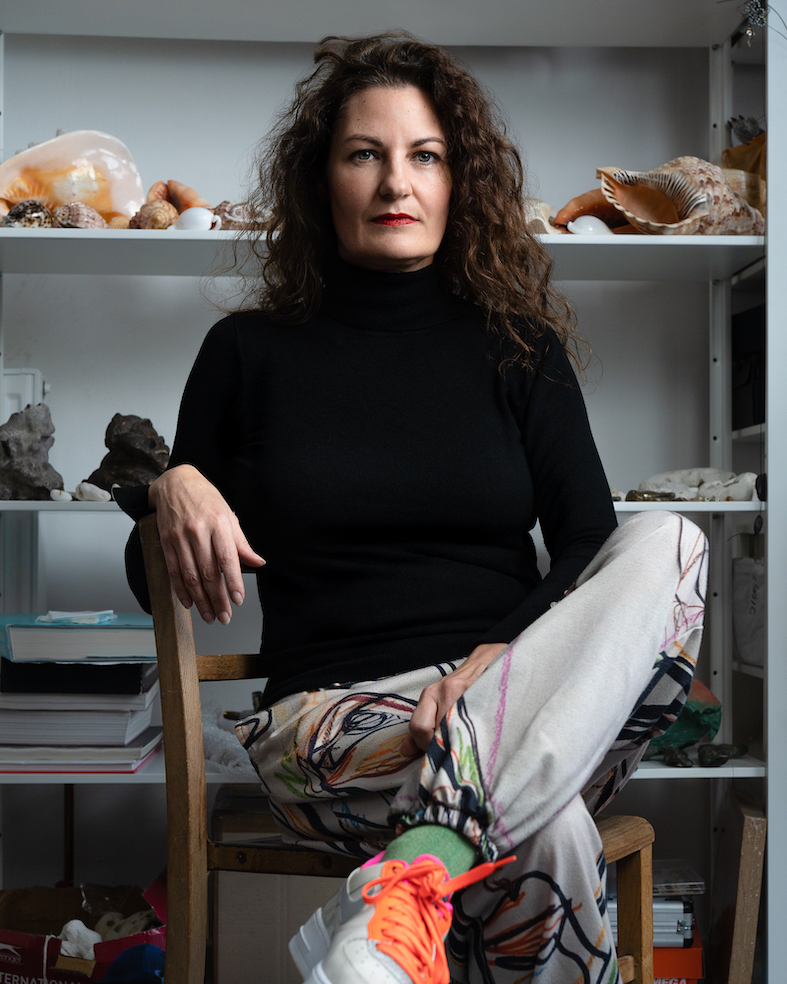 Kate McMillan
b.1974, Hampshire, United Kingdom
1982-2012, Perth, Australia
Based in London at Signal Arts, New Cross.
Dr Kate McMillan is an artist based in London. She works across media including film, sound, installation, sculpture, and performance. Her work addresses a number of key ideas including the role of art in attending to impacts of the Anthropocene, lost and systemically forgotten histories of women, and the residue of colonial violence in the present. In addition to her practice, McMillan also addresses these issues in her activist and written work. She is the author of the annual report 'Representation of Female Artists in Britain' commissioned by the Freelands Foundation. Her recent academic monograph 'Contemporary Art & Unforgetting in Colonial Landscapes: Empire of Islands' (2019, Palgrave Macmillan) explored the work of a number of first nation female artists from the global south, whose work attends to the aftermath of colonial violence in contemporary life. McMillan is currently a Senior Lecturer in Creative Practice at King's College, London.
Previous solo exhibitions include 'The Lost Girl, Arcade Gallery, London (2020); 'The Past is Singing in our Teeth' presented at Kunstquartier Bethanian in Berlin, December 2017, which, in 2018, toured to the Civic Room in Glasgow and Arusha Gallery for the Edinburgh Arts Festival. Other solo exhibitions include 'Instructions for Another Future' 2018 Moore Contemporary, Australia; 'Songs for Dancing, Songs for Dying', 2016, Castor Projects, London; 'The Potter's Field', 2014, ACME Project Space, London; 'Anxious Objects', Moana Project Space, Australia; 'The Moment of Disappearance', 2014, Performance Space, Sydney; 'In the shadow of the past, this world knots tight', 2013 Venn Gallery; Paradise Falls, 2012, Venn Gallery; 'Lost' at the John Curtin Gallery in 2008, 'Broken Ground' in 2006 at Margaret Moore Contemporary Art and 'Disaster Narratives' at the Perth Institute of Contemporary Arts for the 2004 Perth International Arts Festival. Her work has been featured in various museums and biennales, including the 17th Biennale of Sydney; the Trafco Centre for Contemporary Art, Poland; Minsheng Art Museum, Shanghai; Art Gallery of Western Australia; Gertrude Contemporary, Melbourne; Perth Institute for Contemporary Art; John Curtin Gallery, Perth; Govett Brewster Art Gallery, New Plymouth and the Australian Centre for Photography, Sydney.
Her work was part of 'All that the Rain Promises and More' curated by Aimme Parrott for the 2019 Edinburgh Arts Festival. In March 2018 McMillan presented new work for Adventious Encounters curated by Huma Kubakci at the former Whiteley's Department store in West London. In June 2018 she produced a new film-based installation for RohKunstbau XXIV festival at the Schloss Lieberose in Brandenburg curated by Mark Gisbourne. In 2017 she was a finalist in the Celeste Prize curated by Fatos Üstek. In 2016 she was invited to undertake a residency in St Petersburg as part of the National Centre for Contemporary Art (NCCA) where she developed new film works which were shown at the State Museum of Peter & Paul Fortress in Russia in 2017. In early 2017 she was selected to be in the permanent collection at The Ned, for Vault 100, a new Soho House project which reversed the gender ratio of the FTSE 100 by showing the work of 93 women and 7 men. In 2016 McMillan took part in 'Acentered: Reterritorised Network of European and Chinese Moving Image' during Art Basel Hong Kong, curated by Videotage.
Her work is held in private collections around the world, as well as in the Christoph Merian Collection, Basel; Soho House Collection, London; The Ned 100, London; Art Gallery of Western Australia; Wesfarmers Arts Collection; KPMG; Murdoch University, Australia; University of Western Australia and Curtin University, Australia. Since 2002 she has also undertaken residencies in London, Tokyo, Basel, Berlin, Sydney, Beijing and Hong Kong. She has resided on the Board of the Perth Institute of Contemporary Arts (PICA) and the National Association for the Visual Arts (NAVA) based in Sydney. She is a Lecturer in Contemporary Art in the Department for Culture, Media and Creative Industries, King's College, London. Prior to this, she has guest lectured at The Ruskin, Oxford University, University of the Arts, Farnham and Coventry University and in Australia at Curtin University.
McMillan in various interviews:
https://www.youtube.com/watch?v=1JL1K1PIZoo
https://www.youtube.com/watch?v=uv8xMdVssnE
https://vimeo.com/111507312